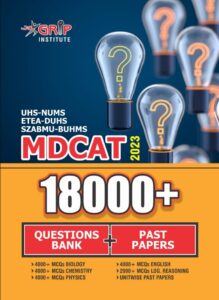 The Best and Largest MDCAT 18000+ Topic wise QUESTION BANK with explanatory answers is available now!
Features:
•4000+ Biology Questions
•4000+ ENGLISH Questions
•4000+ Chemistry Questions
•4000+ PHYSICS Questions
•2000+ Logical reasoning Questions
•UHS past papers (2008-2022)
Limited stock available. Hurry up to order your Questions Bank.
Book price with delivery is 2500/-
For order call or text at our WhatsApp number.
Table of Contents:
What is MDCAT?
MDCAT stands for the Medical and Dental College Admission Test. It is a crucial examination that aspiring medical and dental students must take for admission to respective colleges. MDCAT assesses the knowledge and aptitude of candidates, serving as a determining factor in their academic and professional journey in the healthcare field. For the year 2023, mark your calendars for the 27th of August as the official date for the MDCAT.
MDCAT holds immense significance as it serves as a mandatory requirement for admission into medical and dental colleges in Pakistan. The examination plays a pivotal role in evaluating the knowledge and aptitude of aspiring students in the medical field.
Universities across the country will conduct the MDCAT tests, ensuring that candidates from all provinces have an equal opportunity to showcase their abilities. To maintain fairness and uniformity, the same question paper will be provided to all candidates throughout the provinces. The examination will be conducted in a paper-based format, allowing students to demonstrate their knowledge and skills within the allocated time.
MDCAT Test Structure
STRUCTURE
Total MCQs: 200
Duration of MDCAT: 3.5 Hours
Format: Physical Paper-Based Test
Minimum Pass Marks for MEDICAL College Admission: 65%
Minimum Pass Marks for Dental College Admission: 55%
DIFFICULTY LEVEL
20% MCQs (Easy)
60 MCQs (Moderate)
20% MCQs (Hard)
NUMBER OF MCQs
BIOLOGY – 68 MCQs
Chemistry – 54 MCQs
Physics – 54 MCQs
English – 18 MCQs
Logical Reasoning – 6 MCQs
MDCAT Eligibility Criteria
Any person (Pakistani/Overseas Pakistani/Foreign National) shall be eligible to register for and attempt the MDCAT examination.
FSC/HSSC/A level result/degree IS NOT required for MDCAT registration.
A candidate is permitted to take the MDCAT exam only once in each calendar year.
MDCAT 2023 Conducting Bodies
Merit Criteria for Admission
MDCAT 50%
FSC 40%
Matric 10%
Exam Date for MDCAT 2023
Local & International: 27 August 2023
Venues in Pakistan
Lahore
Sialkot
Khairpur
Abbottabad
Multan
Sahiwal
Karachi
DI Khan
Faisalabad
Islamabad
Hyderabad
Peshawar
Gujranwala
Quetta
Nawab Shah
Swat /Malakand
DG Khan
Muzaffarabad
Mirpur (AJK)
Bahawalpur
Gilgit
International Venues
Saudi Arabia
UAE
Qatar
Canada
USA
UK
Oman
Bahrain
Australia
Passing Criteria
65% (130 out of 200) for admission into Medical Colleges
55% (110 out of 200) for admission into Dental Colleges
MDCAT 2023 Registration Timeline
Announced date for MDCAT Exam: 27 August 2023
MDCAT Registration Date: 17 July 2023 – 31 July 2023
Issuance of Roll Number Slips: 31 July 2023 – 10 August 2023
MDCAT 2023 Syllabus
Syllabus for MDCAT 2023 will be same as 2022. The MDCAT 2023 syllabus encompasses various subjects and topics relevant to the medical and dental field. It typically includes subjects such as Biology, Chemistry, Physics, and English. The syllabus is designed to assess a candidate's understanding of key concepts and principles in these areas, ensuring they have a strong foundation for their future studies in medical or dental colleges. It is essential for students to thoroughly study and prepare for each subject according to the prescribed MDCAT 2023 syllabus to perform well in the examination.
MDCAT WhatsApp Group
MDCAT 2023 Resources by MDCATGURU
MDCAT 2023 Preparation Tips by MDCAT GURU:
Familiarize Yourself with the Syllabus: Go through each subject's syllabus and make a note of all the topics. This will help you get an overview of what needs to be covered.

Create a Study Schedule: Divide your time wisely, allocating sufficient time to each subject based on its weightage. Set achievable daily and weekly goals to keep yourself on track.

Gather Study Material: Collect relevant textbooks, reference books, and past papers. Make sure to use updated and recommended resources that align with the MDCAT syllabus.

Focus on Conceptual Understanding: Build a strong foundation by understanding the fundamental concepts of each topic. Don't rush through the material; take the time to grasp the concepts thoroughly.

Practice Regularly: Solve practice questions and attempt mock tests to enhance your problem-solving skills and time management. This will also help you identify your weak areas and work on improving them.

Seek Clarification: If you encounter difficulties or have doubts, don't hesitate to seek help. Consult your teachers, join study groups, or consider enrolling in a reputable MDCAT preparation course for expert guidance.

Revise and Review: Regularly revise the topics you have covered to reinforce your understanding. Make concise notes and create flashcards to aid in quick revision.

Practice Time Management: Develop effective time management strategies to ensure you can answer all the questions within the given time limit during the actual exam. Practice solving questions under timed conditions.

Stay Healthy and Manage Stress: Take care of your physical and mental well-being. Get enough sleep, exercise regularly, and maintain a balanced diet. Manage stress through relaxation techniques, such as meditation or deep breathing exercises.

Stay Positive and Motivated: Believe in your abilities and maintain a positive mindset. Surround yourself with supportive peers and family members who encourage and inspire you.
FAQs about MDCAT 2023:
FREE MDCAT Test Session 2023 Schedule and Links?
MDCAT 2023 Date?
Announced date for MDCAT Exam: 27 August 2023.
MDCAT 2023 syllabus?
Syllabus of MDCAT 2023 is same as NMDCAT 2022. You can find MDCAT 2023 syllabus in PDF format here.
MDCAT stands for?
MDCAT stands for Medical and Dental College Admission Test.
Who will conduct MDCAT 2023?
The Pakistan Medical and Dental Council (PMDC) will conduct the MDCAT 2023.
Who will conduct MDCAT 2023?
MDCAT 2023 will be conducted by provincial universities.