Pakistan's First FREE Online MDCAT Preparation Website
Assalam-o-Alaikum and Welcome to MDCATGURU.COM. Welcome to the MDCAT Guru WhatsApp group, your one-stop destination for MDCAT preparation! Join our group to connect with like-minded individuals, share valuable resources, and receive expert guidance from experienced mentors. Whether you're looking for study material, practice tests, or tips and tricks to ace the MDCAT exam, we've got you covered. Our dedicated team at MDCAT Guru is committed to helping you achieve your medical dreams. Don't miss out on this incredible opportunity. Click the link below to join our WhatsApp group and embark on your journey to success in the MDCAT exam. Together, let's conquer the MDCAT!
Join WhatsApp Group
If you want to join our WhatsApp Group, then Click below link and send message for group link.
MDCAT WhatsApp Group Link (2023)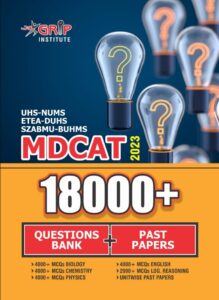 The Best and Largest MDCAT 18000+ Topic wise QUESTION BANK with explanatory answers is available now!
Features:
•4000+ Biology Questions
•4000+ ENGLISH Questions
•4000+ Chemistry Questions
•4000+ PHYSICS Questions
•2000+ Logical reasoning Questions
•UHS past papers (2008-2022)
Limited stock available. Hurry up to order your Questions Bank.
Book price with delivery is 2500/-
For order call or text at our WhatsApp number.
In addition to our interactive WhatsApp group, MDCAT Guru offers exclusive benefits to our members. Join us today and gain access to free test sessions designed to simulate the MDCAT exam experience. Our comprehensive MDCAT material is also available in PDF format, ensuring convenient and easy access to essential study resources. From subject-specific notes and practice questions to past papers and revision guides, we have everything you need to excel in your MDCAT preparation. Don't miss out on these valuable resources. Join our WhatsApp group now and take advantage of our free test sessions and downloadable MDCAT material in PDF format. Start your journey towards success today!